Ultrasonic cutter ZO-91/CE product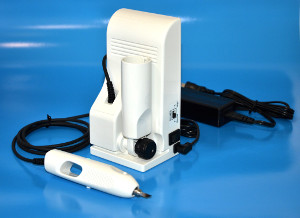 Overview
CUT PLASTIC LIKE BUTTER!!
***Ultrasonic cutter is a tool, helps you cutting tough materials that needs power to cut.***
The blade of Ultrasonic cutter is vibrated in ultrasonic frequency by internal ceramics transducer.
40,000 cycle per second (40 kHz) assists your smooth cut.
Usage examples (reference) 
-Synthetic resin, Plastic, Epoxy putty, Paper/cardboard, Chemical fiber/cloth, polyester putty, Object made by 3D printer, Silicone etc. 
-Thickness: 3 mm maximum
-Plastic scale models, military models, railway models, mini4WD, figure, dioramas, dollhouse, gourd hole drilling, cartonnage, cardboard craft, deburring in garage kit production, printed circuit board pattern modification, white metal and wood cutting in sailing ship model making.
Features
-Just one click operation.
 (No more holding down the hand-piece switch.)
-Normal mode and High mode can be switched by the output mode switch. 
-Normal mode runs for about 10 minutes.
-High mode runs for about only 5 minutes due to rapid temperature rise.
-A temperature sensor is equipped inside of the hand-piece.
 (In case the temperature rises, it stops the ultrasonic vibration and oscillation light blinks.)
-Automatic output control by TAF circuit, our unique technology.
 (TAF oscillation circuit enables the most suitable output and vibration for cutting.)
-There are around 30 types of replacement blades.
 (Such as curving blade, flat blade, long blade, filing plate(electrodeposited diamond) etc.)
Specifications
Oscillation
40kHz

External dimensions

(Unit: mm)

Main unit (Oscillator): 173 × 89 × 76 (excluding projection components)
Hand-piece: 32 × 144 (including the blade)
Weight
Main unit (Oscillator): Approx. 260 g
Hand-piece: Approx. 70g (including the hand-piece cable)
Hand-piece cable
1.6 m (straight cable)
Rated voltage
12 V DC
Max. output
30W
Max. power consumption
Approx. 35 W
AC adapter
100 – 240 VAC 50/60 Hz 80 VA OUTPUT: 12 VDC 3.5A
Circuit protection
The temperature sensor has installed inside the hand-piece
Ambient condition
Temperature: 5 to 35℃, Humidity: 20 to 70%
Accessories
Standard blade (HA04): 1pack (40pcs./pack)
Blade anchor (ZH04): 1pce.
Blade anchor screw (HB03): 3pcs.
Hexagon wrench (RR02): 1pce.
 Catalogue
Related Information
Blog
Related videos