Ultrasonic cutter ZO-95/CE product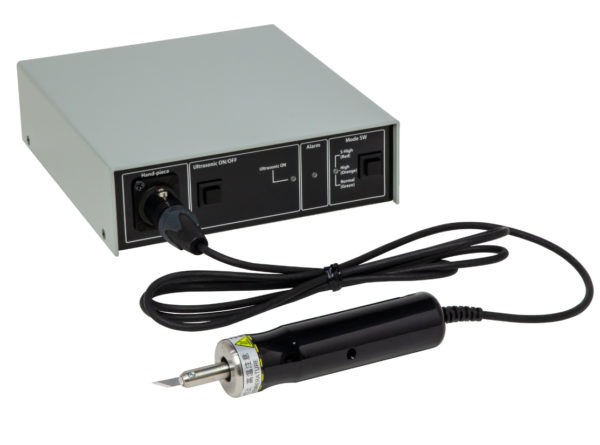 "S-High mode" works to cut the object 1.5 times faster than the conventional model.*1
ZO-95 accessories, Torque screwdriver ZH25T and Foot switch ZH-801 (foot switch for ZO-95).
Plug into the connector on the rear panel of ZO-95 to turn on and off ultrasonic vibration by the foot switch.
Specifications
Oscillation frequency

40 kHz

Max. power consumption

Max. 110 VA

Power Source

AC adapter INPUT: 100-240 V AC 50/60 Hz   OUTPUT: 12 V DC

External dimensions (Unit: mm)

Main unit(Generator): 185*169*55

(excluding protrusions)

Hand-piece: φ28*150

(including blade)

Power mode switch

S-High/High/Normal

Ambient condition

Temperature: 10 to 35 ℃

(No condensation)*2

Weight

Main unit(Generator): Approx. 1.2 Kg

Hand-piece: Approx. 350g

(including hand-piece cable)

Accessories

BDC-200P: 40 pcs./1 case

(including blades with a hole)

Blade anchor ZH04: 1 pc.

Blade anchor screw HB03: 1 pc.

Hexagon wrench RR02: 1 pc.

Torque screwdriver ZH25T: 1 pc.

Foot switch ZH801: 1 pc.
*1 Based on the comparison with the cutting speed of ZO-91 in High mode when 2mm thick acrylic is cut by the force of 2kgs.
*2 Ambient condition doesn't guarantee the performance of operation under the temperature.
Catalogue
Ultrasonic cutter ZO-91 ZO-95 English catalog
 ※This catalog is a version published in May, 2021. Please notice that text on catalog might be old if there are some changes from May, 2021.
Related Information
Blog
Related videos